Melisa A 'Hevian' by Luca Helios
Splendid isn't she? Such beauty is a privilige to behold and fortunately for the art nude model fan Melisa has done quite a lot of work as you can see on her profile page.
Her luscious long hair that cascades all the way down to her ripe luscious derriere. Her body is perfectly honed and she must work at it as she has a somewhat athletic build combined with her innately attractive feminine form is just stunning.
Her charm that I have mentioned in other posts is clear in all her sets and her we see her sweet smile and personality shining through in most of the pictures here in Hevian.
Her bright blue eyes are striking and her long legs draw in your eye and then one starts to notice her nipples that become erect, her shapely bottom and toned abdomen. Somone wrote to me and mentioned she appears to be the 'new Susana Spears'. But I say that she is really unique and has attributes that no other model has.
Great job Luca Helios and bravo Melisa. You are gorgeous!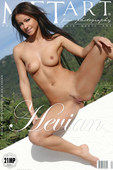 Her profile: Melisa A
Preview Gallery: Hevian
Art Nude Models: Met Art information.